I love biscuits and gravy. They are a nice change from my typical meal of oatmeal in the morning. They are also a breakfast you can easily make with food storage.
Biscuits don't require eggs. They use flour, baking powder, salt, milk, oil and that is about it, depending on your recipe. It is good to keep powdered milk. canned milk, and powdered buttermilk in your cupboards, especially if you are going to be in lockdown with this pandemic. This way you are covered if you can't go to the store. Powdered milk doesn't taste as good as fresh milk, but it is still milk and can be used in cooking. Kids can get used to it as well, but they probably won't get to the point where they are begging for a glass of it!
If you want to do it yourself, making a white sauce is easy with oil, flour and powdered milk. If you add enough pepper to it, it can take the bite out of the powdered milk. You could also try using canned milk if you prefer. And, by adding sausage, no one will suspect you haven't used fresh. You can get freeze dried sausage, but it does cost a lot of money. A small can may run up to $37 dollars. Yes, that is very pricey! So, there are other options that will probably taste better as well as be easier to make. Walmart sells a can of sausage and gravy for 98 cents. Yes, you heard me right. Much better price than the freeze dried sausage, although it won't last 25 years like the freeze dried meat. I think it is worth the trade-off myself!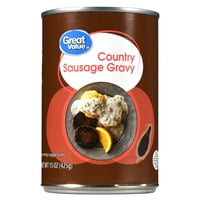 I am sure there are other brands or also packages of mixes if you prefer that. Whatever you choose to do, making biscuits and gravy can be a good option for breakfasts when you are planning food storage meals to have on hand.